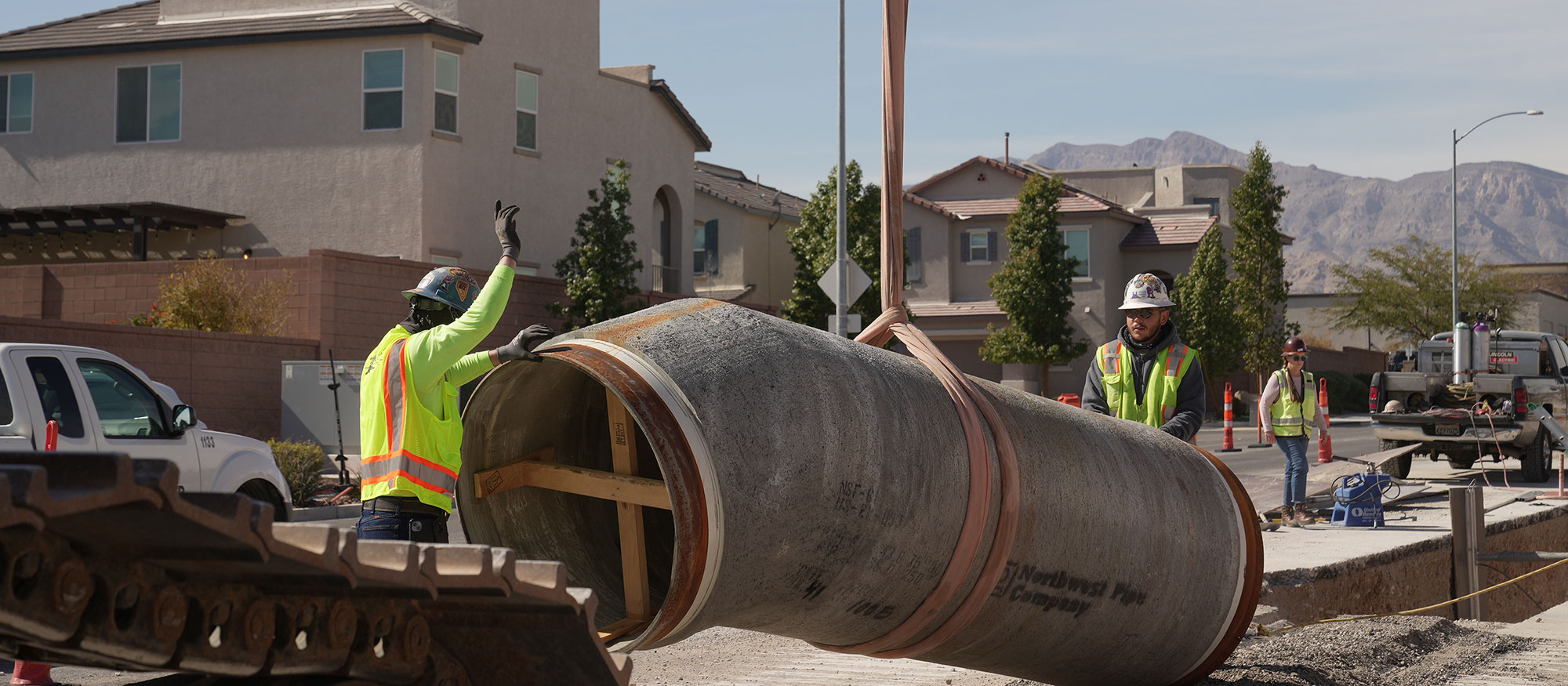 Constructing water systems
Delivering water to customers throughout the Las Vegas Valley requires an intricate infrastructure and thousands of miles of pipeline.
Las Vegas Valley Water District construction projects include water system repairs and new facilities.
View construction bid opportunities
Help the Water District build for tomorrow. View our construction bid opportunities at the Nevada Government eMarketplace.
Construction forms and documents
Use these guidelines, documents and forms to help during water system construction, design and development projects.
Check water availability at specific parcels
If you are a contractor or developer looking for information related to the water availability of a specific parcel, contact the district at 702-822-8518.
Request a fire hydrant meter permit
Contractors and developers who need to request a fire hydrant meter permit (Jones valve) may do so by calling the district at 702-822-8518.
Check service connection fees
See Appendix I of the Las Vegas Valley Water District Service Rules for detailed information on Water District connection fees, including the following:
Application for water service fee
Facilities connection charge
Frontage connection charges
Inspection fee
Oversizing charge
Service connection installation charges
Deficiency fee
Southern Nevada Water Authority regional connection charges
Connection fees for the Big Bend, Blue Diamond, Coyote Springs, Jean, Kyle Canyon and Searchlight water systems can be found in each service area's corresponding service rules.
Call 811 before you dig
Contractors and homeowners are required by law to call 811 at least two days before digging to have local utilities mark underground lines.
Whether you're breaking ground or just installing a new sprinkler system, avoid personal injury and underground line damage by calling before you dig.
Call 811, the nationwide call-before-you-dig hotline. Both contractors and homeowners are required by law to call 811 at least two days before digging. The service is free.
When marking the water lines, Water District line locators will identify Las Vegas Valley Water District water mains that are in the right of way and under the street, and not those on private property.
If you or a contractor you hire hit a line while digging, you can disrupt service to your entire neighborhood and potentially face fines and repair costs.
Follow these steps to have your site cleared:
Before calling 811, outline the location where you will be digging with white chalk or stakes. Your site must be completely outlined for utilities to mark their lines.
Call 811 between 6 a.m. and 7 p.m. at least two days before digging.
At the end of your call, you will receive a ticket number that will be good for 14 days. If you need to call 811 back, please have the ticket number on hand.
Utility members will mark the horizontal path of their underground lines at your site.
Visit the call811.com website for more information about clearing your site.
What do the markings mean?
When utility companies come to mark your digging site, they will use colored paint or stakes to mark utility lines within your digging area. Each type of utility has a unique color:
Blue – Water lines
Green – Sewer line or storm drain
Purple – Reclaimed water line
Yellow – Gas lines
Red – Electric lines
Orange – Telephone and cable lines
For more information, call Corey Enus at 702-822-8496.