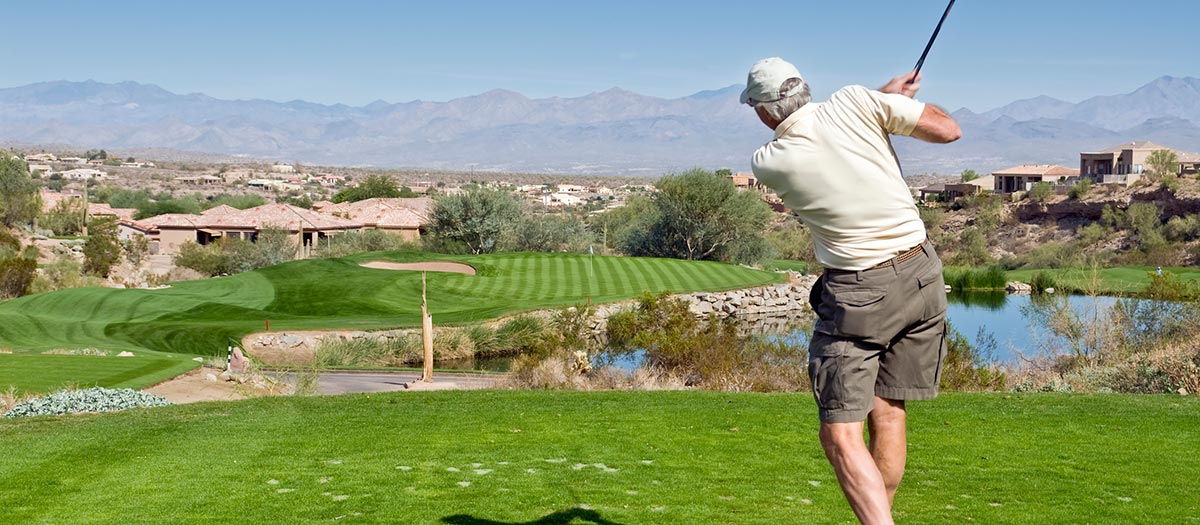 Water recycling
Recycled water is used by golf courses and parks
Recycling water is the practice of capturing waste water from homes and businesses, treating it to a high quality then delivering the water for reuse.
The Las Vegas Valley Water District (LVVWD) delivers recycled water to golf courses, parks and other large-turf facilities, which would otherwise use drinking water for irrigation.
Using recycled water is an effective tool in managing the valley's local water resources.
The Water District's recycled water system is the result of a partnership with the Clark County Water Reclamation District and the City of Las Vegas.
The Durango Hills and Desert Breeze Water Resource Centers capture and treat the waste water to near drinking water standards, and the Water District then delivers it to customers with large grass areas.
The recycled water system includes both treating and distributing the recycled water.
Treating water at resource centers
Unlike traditional wastewater treatment plants, the water resource centers only treat liquids from the waste stream.
Liquid from the wastewater stream moves into covered basins where the screening and filtering process begins. Screens remove solids and miscellaneous trash and send the water to the grit basins where heavier, inorganic solids such as sand and stones, are removed.
After removing solids, the water passes to an equalization basin so it can be drawn out at a steady flow rate through the rest of the treatment process. Aeration basins, secondary clarifiers and automatic backwash filters treat the water further by removing ammonia, organic particulate matter, and other remaining particles.
Finally, an ultraviolet light treatment, among the latest in water treatment technology, disinfects and readies the water for laboratory testing.
After passing this thorough treatment process, the water is clear and colorless and visually indistinguishable from tap water and ready for distribution. With proper management of the irrigation systems, no distinguishable odor should result from the use of this water.
Accepted federal and state uses of recycled water treated to this level include irrigating crops, parks, golf courses and other large turf locations. Recycled water also is acceptable for cooling towers, decorative fountains, concrete mixing, dust control and other industrial uses.
Distributed recycled water
The distribution system consists of:
Two main pumping stations
Three remote booster pumping stations
Approximately 30 miles of pipeline
Two storage reservoirs
Four recharge wells
The Water District distributes recycled water from the Desert Breeze Water Resource Center to the following golf courses and parks in the southwest valley:
Red Rock Country Club
Rhodes Ranch Golf Club
Spanish Trail Golf Course
Siena Golf Club
LVVWD also distributes recycled water from the Durango Hills Water Resource Center to golf courses in the northwest valley:
Angel Park Golf Course Palm
Angel Park Golf Course Mountain
Canyon Gate Golf Course
Durango Hills Golf Course
Eagle Crest Golf Course
Highland Falls Golf Course
Outlaw Golf Course
Palm Valley Golf Course
TPC Summerlin Golf Course
TPC Canyons Golf Course
The benefits of recycled water
Treating and delivering recycled water saves the cost of pumping water from Lake Mead. While recycled water for irrigation does not expand our valley's available water supply, it reduces energy costs and environmental impact and uses nonpotable water for irrigation.
Strict standards for monitoring and quality control
Recycled water customers must follow an effluent management plan approved by the Nevada Division of Environmental Protection. This plan outlines the strict monitoring, quality control and reporting procedures that recycled water users must follow as required by state law.
In the Las Vegas Valley, only large turf customers use the water the recycled water distribution system produces. There are many requirements for application and handling of recycled water which all customers must follow. Large turf irrigators have the staff to handle these requirements and a greater capacity to offset operation and monitoring costs when compared with small or individual users.
Recyling water plays a vital role throughout the Southwest
Communities throughout the world use recycled water, and it plays a vital role in the water resource mix of most urban areas in the Southwest. Recycled water helps reduce the demand on our drinking water system.
In our neighboring states of Arizona and California, recycled water is a common component of regional water resource planning.
The City of Henderson uses reclaimed water for nearly all of its golf courses and other communities in the valley are looking at similar programs.
For more information, call Public Information at 702-258-3930 or email us.