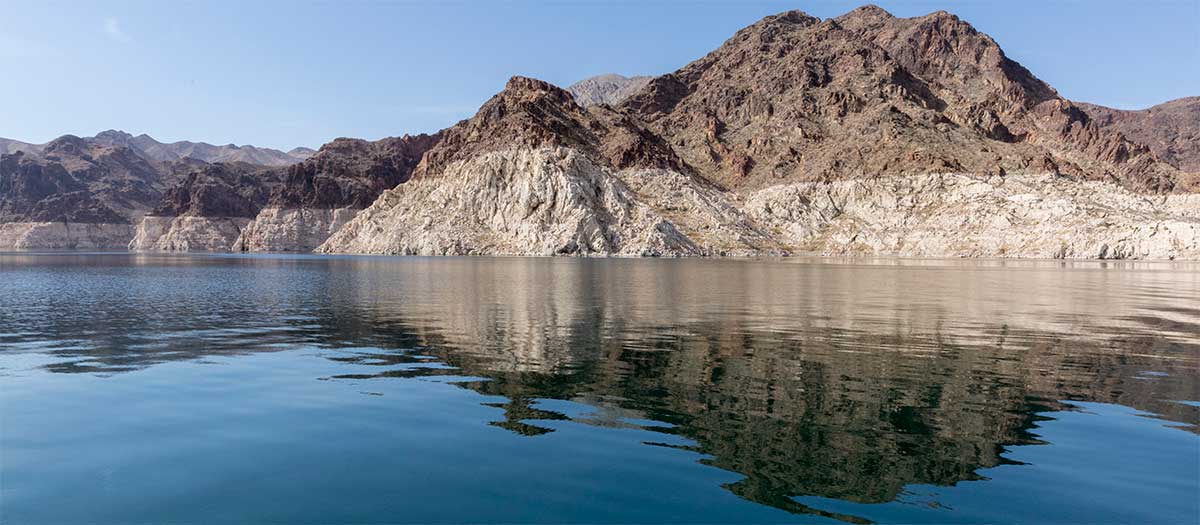 Drought and conservation measures
The Las Vegas Valley gets about 90 percent of its water from the Colorado River, which is facing the worst drought in the river basin's recorded history. The water level of Lake Mead, which serves the source of most of our community's drinking water, has dropped more than 150 feet since January 2000.
As a result of shortage conditions on the Colorado River, the Secretary of the Interior made the first-ever shortage declaration in 2021, which reduced the amount of water available to Nevada and other water users in 2022. A Tier Two shortage was declared in 2022 for 2023 operations, further reducing the amount of water available to Nevada and other water users. 

Issued in accordance with the 2007 Colorado River Shortage Guidelines, the declaration limits the amount of water Southern Nevada can withdraw from Lake Mead by 25,000 acre-feet, or about 8.1 billion gallons.The total obligations by all parties, including Arizona and Mexico, is 721,000 acre-feet. (An acre foot is equal to 325,851 gallons of water.)
For more information regarding tier two shortage conditions, visit SNWA.com.
Water conservation efforts
This historic drought began in the early 2000s. In 2002, the Colorado River experienced its lowest recorded flows on record. That same year, Southern Nevada used more water than it ever had before. Recognizing the need to reduce water use, this community embraced and implemented the most progressive and comprehensive water conservation program in the nation.

As a Southern Nevada Water Authority member agency, the Water District adopted mandatory conservation measures, including seasonal watering restrictions, golf course water budgets, a grass replacement program, water waste penalties, and changes to municipal codes that significantly reduced the impact of new development on our water supply.
Thanks largely to the adoption of water conservation measures in 2003, conservation efforts in the Las Vegas Valley have helped reduce the community's Colorado River consumption. The community used 33 billion gallons less water in 2022 than in 2002, despite a population increase of about 750,000 residents during that time. This represents a 51 percent decline in the community's per capita water use since 2002.
Recently, the Nevada Legislature passed a law prohibiting the use of Colorado River water to irrigate unused, decorative grass in our valley by the end of 2026. This is grass in medians, roundabouts, business centers, HOA entrances and bordering parking lots and streets. This initiative will save water and help our community manage Colorado River shortage conditions.
With no end to the drought in sight, however, achieving further reductions in water use has taken on a new sense of urgency for the Las Vegas community.
What you can do
As a resident or business owner, you can help safeguard our community's drinking water supply by:
Following your mandatory watering schedule, either changing your own irrigation clock each season to comply or making sure your landscaper does so.
Removing grass with desert-friendly landscaping. With the Southern Nevada Water Authority's Water Smart Landscapes program, you could qualify for a rebate for grass converted to water-smart landscaping. You must contact the Water Authority before you begin your conversion to qualify.
Fixing sprinklers or anything else that's causing water to flow or spray off your property.
Making sure water isn't leaking inside your home or in your yard.
Taking advantage of financial incentives to update your old watering clock, purchase a smart water leak detector, or remove grass.
Reporting water waste around town when you spot it happening.
What does a federal water shortage on the Colorado River mean for Las Vegas?
We're facing tough water challenges in our valley—and they're about to get tougher. The federal government has declared a water shortage on the Colorado River, our primary source of drinking water. SNWA and LVVWD General Manager John Entsminger explains what this means to Southern Nevada.
Cause of the drought
Snowmelt and precipitation in the Colorado Rocky Mountains feed the Colorado River, which flows into Lake Mead.
The Rocky Mountains have had below-average snowfall for several years, decreasing the amount of runoff into the Colorado River.
Lake Mead is more than three trillion gallons below capacity.
It would take many years of above-normal runoff in the Rocky Mountains before Lake Mead's water level returns to the level before the drought began.
Unfortunately, the best scientific projections available suggest that current Colorado River conditions will not only continue but worsen. Leading climate scientists warn of a permanent shift to a drier future, something known as "aridification."
Drought contingency plan
Congress authorized implementation of the Lower Basin Drought Contingency Plan (DCP) in 2019. Under this agreement, Lower Basin States will begin making DCP contributions when the elevation of Lake Mead is projected to be at or below 1,090 feet.

Contribution amounts vary by state and are based on Lake Mead water levels. Nevada's DCP contribution ranges from 8,000 to 10,000 AFY. This volume of water is in addition to any mandatory reductions associated with a federally declared shortage.

Nevada will receive credit for its DCP contributions. These credits can be recovered when Lake Mead is above 1,110 feet. Below this elevation, Nevada can access or borrow its credits, subject to certain restrictions.
Learn more the Drought Contingency Plan.
Conservation restrictions
Evaporative cooling
On Nov. 15, 2022, the Las Vegas Valley Water District Board of Directors approved a conservation measure, ensuring that after Aug. 31, 2023, no new permits in the Water District's service area will be approved for commercial and industrial buildings that plan to use evaporative cooling. For more information, review the LVVWD Service Rules.

Evaporative cooling mechanisms are highly water intensive and are Southern Nevada's second largest consumptive use of water, exhausting nearly 10 percent of Southern Nevada's Colorado River allocation annually. Alternative cooling technologies are available that are less water intensive, and the Southern Nevada Water Authority offers incentives to replace evaporative cooling.
Fountains and water features
City and county ordinances restrict the use of water to fill or refill man-made lakes and decorative water features.
Fountains and water features with a surface area of 10 square feet or less are allowed at a single family residential property. All other fountains and water features are prohibited, unless they're located entirely indoors.
Water feature contacts
The service area of most Water District accounts are located in the City of Las Vegas or Clark County. Other contact numbers are provided for convenience.
Golf courses
New golf courses
Water from the Colorado River may not be used at new golf courses built in Las Vegas or unincorporated Clark County after Nov. 2, 2021. This prohibition was added to the Las Vegas Valley Water District's Service Rules after being approved by the Water District's Board of Directors.
The rule applies to both potable and nonpotable water.
The average golf course in Southern Nevada consumes about 725 acre-feet of water each year, with the majority used to irrigate fairways and greens. Unlike water used indoors, this water cannot be reclaimed and returned to Lake Mead.
With ongoing drought and shortage conditions along the Colorado River, water for new golf courses is considered a nonessential use of Southern Nevada's water supply. Reducing nonessential water use is vital to the community's health and safety, and restricting water-intensive uses such as golf course irrigation helps maintain a reliable source of water for the valley.
Existing golf courses
The Service Rule described above does not impact existing golf courses. Since 2003, however, these courses have operated under strict water budgets mandated by the Water District.
Water budgets are calculated based on the number of acres currently being irrigated. This includes all lakes and ponds within the course and those used all or in part as an irrigation reservoir. Budgeted acre-feet include potable, raw, reclaimed, and recycled water.
Water budgets for golf courses
In January 2023, LVVWD approved a reduction in golf course water budgets from 6.3 acre-feet of water per irrigated acre per year to 4 acre-feet annually effective in 2024. Water used in excess of a course's water budget incur surcharges.
| Percentage of budget | Surcharge to apply to water use in excess of budget |
| --- | --- |
| 101 to 120 percent | 2 times the highest nonpotable rate |
| 121 to 140 percent | 5 times the highest nonpotable rate |
| More than 140 percent | 9 times the highest nonpotable rate |
Golf course water conservation efforts
Each golf course has been required to submit its own water-use reduction plan containing at least the following elements:
Physical description of the course with detailed descriptions of irrigated areas
Itemized accounting of water use for the calendar year
A review of spray irrigation efficiency
A description of key water-use reduction strategies and timelines for implementation
Over the past decade, Southern Nevada golf courses have replaced 900 acres of turf with desert landscaping—enough grass to equal nine professional-sized, 18-hole courses. They have also invested in water efficiency and management projects such as soil monitoring, water-smart irrigation controllers, weather stations, and professional irrigation technicians that help ensure courses use water as efficiently as possible.
Currently, golf courses use 6 percent of the community's water supply while providing recreation and economic benefit for residents and visitors. The Water District continues to work closely with golf course staff to implement conservation programs that further protect our limited water supply.
Golf courses are exempt from time-of-day and assigned watering day provisions.
For more details about golf course water budgets, see the Service Rules Chapter 11.
Government facilities
The following conservation measures apply to government facilities:
Grass prohibition
New development occurring since April 5, 2022: The Las Vegas Valley Water District service rules prohibit grass and spray irrigation systems from being installed in all new properties, including single-family residential properties. Schools, parks and cemeteries are exempt.
Single family homes constructed between 2003-April 5, 2022: Grass is prohibited in front yards, and limited to 50 percent or 100 square feet of grass, whichever is greater (maximum of 5,000 square feet) in side and rear yards.
Non-residential development since 2003: Grass is prohibited.
Misting systems
Residential mist cooling systems are allowed with no restrictions. Commercial misting system use is restricted for human comfort and allowed only during the months of May, June, July, and August.
Parks and community-use recreational turf areas
Community-use recreational turf areas, such as public parks and athletic fields, must comply with the following restrictions:
Maximum watering frequency
Season
Watering frequency
Spring
March-April
Watering for each area may not exceed 7 out of 14 days.
Winter
November-February
Watering for each area mat not exceed 2 out of 7 days.
Fall
September-October
Watering for each area may not exceed 7 out of 14 days.
Summer
May-August
Watering prohibited from 11 a.m. to 7 p.m.
The schedule must be posted at each location for spring, winter and fall.
Swimming pools
In July 2022, the LVVWD Board of Directors approved an update to the LVVWD service rules to limit new residential swimming pools and spas to no more than 600 square feet of surface area per property. The update to the service rules only applies to new pools and spas at single-family residential properties.

The average surface area of residential swimming pools in Southern Nevada is about 475 square feet, and limiting new pool sizes will prevent the proliferation of the large-scale, water-intensive residential swimming pools—some larger than 3,000 square feet—that have been constructed in recent years. The pool size limit is expected to be considered and implemented into development codes by all local municipalities. The measure is expected to save more than 32 million gallons over the next 10 years.
Draining pools
All pool water must be properly drained into the sanitary sewer when the public sanitary sewer is available. Allowing pool water to drain into streets, sidewalks or storm drains is a violation of city and county ordinances and Water District water waste policies. Violations could result in a water waste fee on your bill. Learn the lawful way to drain your pool.
Washing surfaces, equipment, and buildings
Surface, equipment, and building washing is prohibited unless water is discharged to the sanitary sewer through approved methods or contained on site.
Washing your vehicle
Personal vehicles may be washed at home using a hose with positive shut-off nozzle. However, the Water District recommends use of a commercial or self-serve car wash where water is captured to the sanitary sewer, which allows for recycling. Or, use a high-pressure, low-volume sprayer to maximize water savings.
Personal vehicles
Car washing is limited to once a week per vehicle using a hose with positive shut-off nozzle.
Commercial vehicles
Wash commercial vehicles only at a facility where water is discharged to the sanitary sewer through approved methods. Or, wash with a high-pressure, low-volume sprayer using less than 10 gallons per vehicle. There is no limitation on frequency.
Mobile car washes
Mobile car washes are allowed as long as the company uses high-pressure, low-volume equipment and uses less than 10 gallons of water per vehicle.
Car wash coupons
The Southern Nevada Water Authority offers car wash coupons online. A water-smart car wash recycles the water on site or drains it to the sanitary sewer, helping protect our water supply.
Water budgets
The Water District reserves the right to assign specific water budgets to customers, including rates and surcharges related to the budget. If assigned, the Water District will notify water budgeted customers of how much water they are budgeted and additional provisions. For complete details, see Service Rules Chapter 11.